A Diet & Lifestyle to Transform Your Health
The Mediterranean diet is considered one of the healthiest diets around the world and focuses on high-fiber intake from fruits and vegetables, as well as moderate consumption of healthy fats and proteins. The Mediterranean diet weight loss plan has a philosophy that is rooted in the dietary patterns of countries along the Mediterranean Sea including Greece, Italy and Spain. The Mediterranean diet is not only distinctive because of its dietary recommendations, but also for how it endorses a new way of approaching how we eat our meals each day.
With numerous clinical studies and real-life success stories, the Mediterranean diet plan has become one of the most recommended diets for weight loss and disease prevention.
Get started with the Mediterranean diet meal plan under the guidance of a nutritional specialist in . Call (832) 532-0050 or contact us online.
The Fundamentals of the Mediterranean Diet
The Mediterranean diet food list focuses heavily on the quality of the foods you eat each day, eliminating processed and sugary foods which have become pervasively part of the typical American diet, and replacing them with clean, whole foods.
The foundation of the diet is plant-based (10+ servings a day), with a majority of your meals prepared vegetarian, and include:
Fruits and vegetables
Whole grains: brown rice, quinoa, couscous
Legumes: beans, lentils, chickpeas
Healthy oils: olive, coconut flaxseed
Unsalted nuts: pistachios, walnuts, almonds, cashews
Fresh herbs and spices: parsley, basil, cilantro, mint
A Mediterranean diet to lose weight also lets you incorporate more fat than other, more restrictive, weight loss diets. It is the quality, not the quantity, of fat that is important in this diet with an emphasis on incorporating unsaturated fat. Unsaturated fat can:
Improve HDL levels, the good cholesterol
Diminish LDL levels, the bad cholesterol
Protein consumption is also important in the Mediterranean diet which promotes the frequent consumption of lean protein such as fish and seafood (3 times per week). When planning protein consumption with Mediterranean diet recipes, remember:
Seafood rich in omega-3s is ideal, like tuna, salmon, mackerel and herring
Poultry, eggs, and dairy are encouraged, but in moderation
Red meat is reserved for special occasions, maybe once or twice a month. When consumed, limit to lean cuts from grass-fed sources
Avoid bacon, sausage, and other fatty meats
The Mediterranean Diet Pyramid
The Mediterranean diet food pyramid reprioritizes the traditional food pyramid to place an emphasis on increased consumption of fruits, vegetables and healthy oils, particularly olive oil. It also distinguishes between plant and animal-based proteins, limiting red meat consumption and promoting legumes, nuts and seeds as staples of the diet.
Unlike the traditional pyramid which focuses on typical American eating patterns, the Mediterranean diet pyramid accommodates the lifestyle components of the Mediterranean culture that are as equally important as the foods themselves.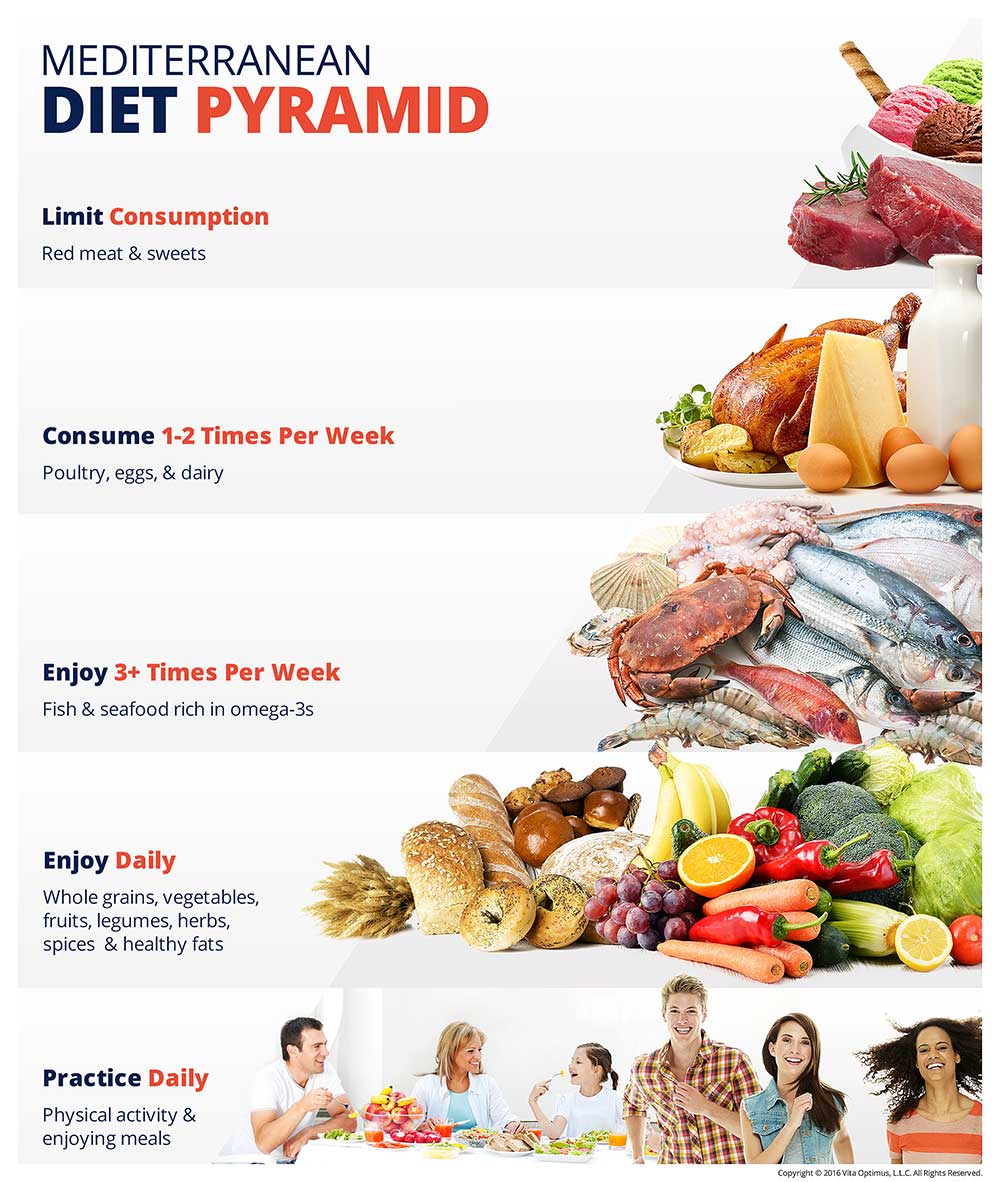 Mediterranean Diet Benefits
Adhering to a Mediterranean diet meal plan can lead you to live a longer, healthier life. Numerous scientific studies show the ability of the Mediterranean diet to:
Promote weight loss
Enhance cardiovascular health
Reduce risk of Alzheimer's and Parkinson's disease
Slow cognitive decline
Improve rheumatoid arthritis symptoms and overall muscle weakness
Reduce the risk of certain types of cancer
The Mediterranean Diet as a Lifestyle Change
In addition to the dietary recommendations made from traditional Mediterranean cuisine, the diet recommends adopting the lifestyle habits also associated with these Mediterranean cultures. The diet's philosophy emphasizes the importance of sharing meals with others, creating a connectedness with people who matter to you. This means eating in a relaxed environment, allotting more time for meals and eliminating electronics from the dinner table.
In addition to focusing on the quality time spent with others during meals, incorporating exercise into your day, especially after meals, is also key under the guidance of this diet plan and is prevalent throughout various Mediterranean cultures. Regular physical activity further promotes the health benefits associated with the diet including improved cardiovascular health and increased longevity.
Before beginning the Mediterranean diet, or any other diet plan, it is important to first talk with your healthcare provider who will evaluate your current health status and make a diet recommendation most appropriate for your current needs.
Request more information about the Mediterranean diet weight loss plan today. Call (832) 532-0050 or contact us online.